People with Energy Achieve Silver Level in Carbon Charter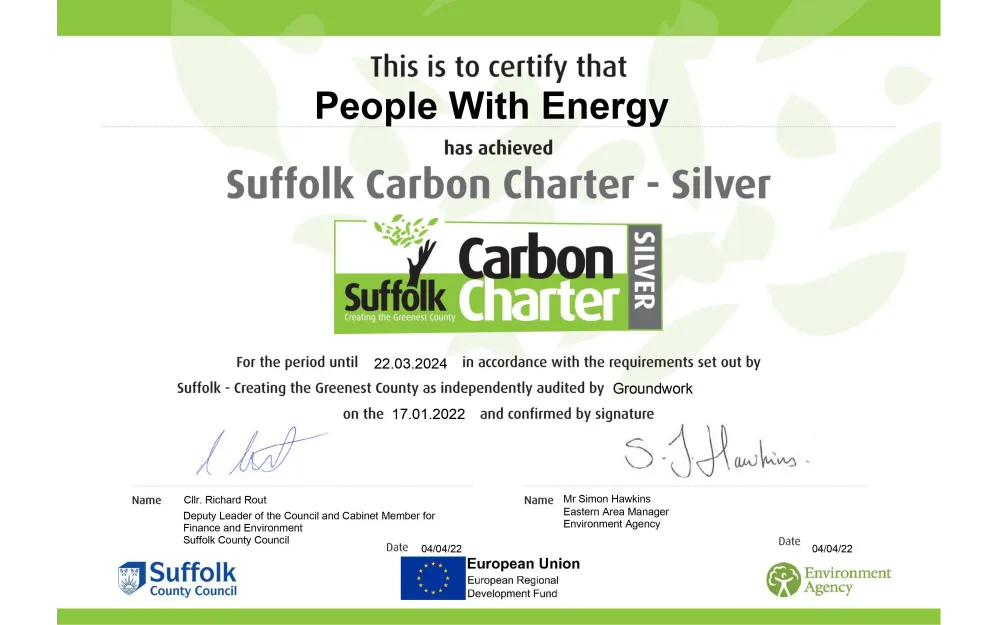 The Carbon Charter recognises small and medium size businesses that are making an effort to run their organisations in an environmentally friendly and sustainable fashion. People with Energy has signed up for the scheme and straight away been awarded Silver Level for our efforts to reduce carbon emissions from our activities.
To achieve Silver Level, we had to meet all the requirements for the Bronze award and demonstrate significant progress against measurable actions to reduce energy consumption.
In order to qualify for the award, we provided the experts at Carbon Charter with an action plan and evidenced our progress with the following documentation:
A record of actions completed with dates and individuals responsible.
Documents identifying the progress made - reaching a target of 10% emissions reduction over two years.
Evidence of the installation of new, carbon saving equipment.
Minutes of meetings where progress against actions was discussed.
Documents and procedures to ensure that staff undertake activities in an energy efficient manner.
Budgets allocated towards ensuring that the action plan is achieved.
Feedback from staff identifying that they understand their responsibilities in ensuring that we meet our targets.
We want to thank everybody at the company for joining in and helping us to meet these targets. A 10% reduction in energy use over two years is a spectacular achievement and we're really proud of the whole team getting behind this initiative.