Artificial Island to Bring Green Jobs to UK
Posted on January 4, 2018
A plan to build an artificial island in the middle of the North Sea could bring thousands of jobs to the UK energy industry as well as cheaper, cleaner energy for consumers here. The artificial island is designed to be a hub for the world's largest windfarm and would supply energy to the UK, Netherlands, Germany, Belgium, Denmark and Norway. TenneT first announced plans in June 2016 for the ambitious project, and now the project seems to be moving forward as investment is sought.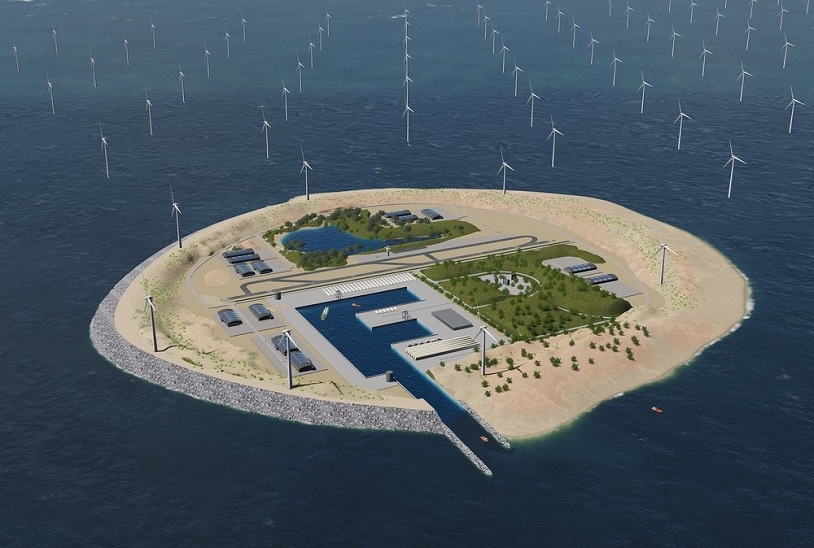 An artist's impression of the island. Image: TenneT
The Project
TenneT - The Dutch equivalent of The National Grid, have proposed the futuristic island in response to the need to provide more wind power at a lower cost.
Rob van der Hage
, who manages TenneT's offshore wind grid development programme, said: 
"It's crucial for industry to continue with the cost reduction path. The big challenge we are facing towards 2030 and 2050 is onshore wind is hampered by local opposition and nearshore is nearly full. It's logical we are looking at areas further offshore." 
Building the island would reduce the amount of expensive cabling needed to get the power back to land, and pooling resources for one huge project rather than one mid-size farm for each country makes financial and practical sense too.  
Dogger Bank, 125km off the coast of East Yorkshire has been chosen due to shallow water, high winds and its advantageous location. The island would be 6sq km and be home to an airport, harbour and even an artificial lake! Surrounded by hundreds of turbines, the site will supply energy to 80 million people across Europe and construction is due for 2022 with the island ready by 2027. 
Employment Opportunities 
Siemens, who employ more than 1,000 people at their wind turbine manufacturing facility in Hull, called the island proposal an "exciting and innovative idea".
Ray Thompson
, head of business development at Siemens Gamesa UK and Ireland, said: 
"A project of such a scale would require significant expertise and infrastructure; it would be logical for this to be based in what is now known as the energy estuary. If it were to be based there, such a project would potentially create thousands of direct and supply chain jobs locally."
With such a huge project, numerous organisations and companies will be involved as the timeline progresses. Employment opportunities are likely to benefit thousands of people along the East Coast as the near-shore and far-shore wind farms both grow over the next few years. 
We are already receiving demand for on and offshore candidates to work on projects this year. Make sure you're top of the queue and send us your CV.